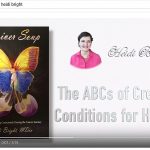 Many cancer patients with metastatic, end-stage disease have gone into radical remission–having no evidence of disease in their bodies.
How did they do it?
Heidi Bright gathered several lists of the characteristics shared by those in radical remission and distilled them down to three basic concepts. These amazing patients changed their Attitudes and Behaviors, and made major, life-changing Choices. This allowed more life force energy to rise up from within, and their bodies rebalanced themselves. For some, this healing removes evidence of disease.
Find out more about the ABCs of Creating Conditions for Healing through Heidi's "Subduing the Dis-ease Dragon" presentation. The talk is divided into four youtube videos and is about 20 minutes long in total.
Watch the presentation here:
ABCs of Creating Conditions for Healing, Part 1 of 4
Part 2, Changing Attitudes
Part 3, Changing Behavior
Part 4, Making Choices
Presentations can include a guided meditation for finding out what your body wants from you so it can be in a better position to heal.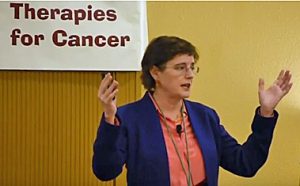 Presentation at the 2018 Annie Appleseed complementary and alternative cancer therapies conference (33 minutes including q/a): https://www.youtube.com/watch?v=iP-0br_uB3s&feature=youtu.be
To schedule a presentation, please call Heidi at 513 444 0190 today.
Some previous presentations:
* Annie Appleseed Complementary and Alternative Cancer Therapies Conference, West Palm Beach, FL
* NLMSF National Patient Symposium, Columbus, OH
* NLMSF Regional Patient Symposium, Siteman Cancer Center, St. Louis, MO
* University of Cincinnati Barrett Cancer Center, Cincinnati, OH
* St. Elizabeth Cancer Center, Edgewood, KY
* North Hills Cancer Support, Pittsburgh, PA
* Victory of Light, Cincinnati, OH
* Main Street Books, Davidson, NC
* Cancer Support Community, Columbus, OH, and Cincinnati, OH
* Kent Cook Nook, Davidson, NC
* HIME Wellness, West Chester, OH
* YOUnique Wellness, West Chester, OH
* Stillpoint Center for Healing Arts, Cincinnati, OH
* Infusion, Cincinnati, OH
* LIIFT, Indianapolis, IN, and Cincinnati, OH
* Milford Public Library, Milford, OH
* OLLI, Cincinnati, OH
* Exchange Club, Cincinnati, OH
* Art of Healing Wellness Fair, Batavia, OH
Some feedback from this presentation:
Thanks for a most thought-provoking talk. I've done little else but think since we were together. Who am I? What matters most to me? What do I hope to be when I grow up? How big is my part in the scheme of things?… The talk was a wonderful thing for me.
The ABCs of healing was eye-opening and can help with my health issues—listening to own body through meditation to aid conventional medicine
Brilliant and insightful—I'll definitely be on the blog
You want to be on PBS with your presentation! It was fantastic
Excellent—just the right pace and discussion.
Amazing manifestation of mind and body working together
An amazing story able to help some people I know, if open to it
Very good presentation—stories used were very illustrative of the ideas
You have a wonderful voice—soft, kind, compassionate. Easy to be guided into meditation. I felt safe.
Well spoken, compassionate, informational
I now will be assessing my attitudes, behaviors, and choices closely
ABC—was easy to remember/remind oneself
Positive view of how to face potential dis-ease
I gained inner strength and group support.
Loved it!
Soft voice, peaceful music.
I gained connections and understanding of healing.
I gained inspiration from Heidi's story and sharing with others who attended.
Today I learned about having a "guide."
Today I learned the difference between curing versus healing.
I gained new resources, inspiration, and hope.
I gained a sense of well-being, also knowing I need to reduce stress in my life.
Her experience is so full of insight—she has so much to pull from and share.
Helpful—great speaker and message.
Heidi, you were magnificent.
I gained more wisdom.
Beautiful, heartfelt, easy. I gained an understanding of the power of healing through all modalities.