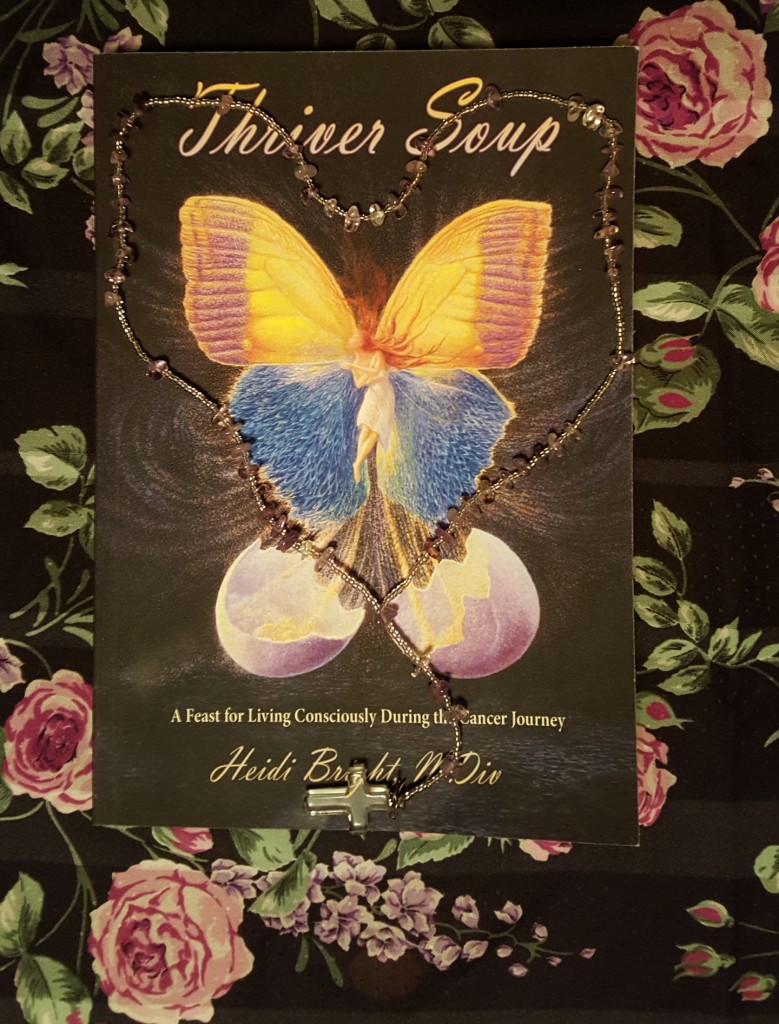 Hail Mary, full of grace, the Lord is with thee; blessed art thou amongst women, and blessed is the fruit of thy womb, Jesus.
Portion of a Hail Mary prayer, Western version
For the past nine months, my prayer life had succumbed to grief after losing my son.
Recently I visited with Vince and Connie Lasorso, owners of Whatever Works Wellness Center. Vince had written a special healing rosary prayer for me to use while I was in cancer treatment. The rosary is a necklace of beads used for meditative prayers. One Hail Mary prayer is said for each bead, and the beads are strung on Catholic rosaries in groups of ten. Those who pray the rosary use the beads to track where they are at in their prayer process.
Vince had expanded his rosary into a book about Mother Mary and the rosary. He talked about how persistent use of the rosary can take us into new areas of consciousness and can open us up to healing energy.
I badly needed this conversation. During cancer treatment, I had no energy for prayer. Then for years I poured intense prayer energy into my son Brennan, yet still lost him to a heroin overdose. Deeply discouraged, my prayer life had withered. Vince could tell—so he reminded me that for years people had been pouring their prayers into me, and here I am healthy with my third published book, Thriver Soup, to share what I learned about healing during cancer.
Synchronistically, my friend Gay had given me my first rosary as a Christmas gift this past year. It is beautiful—the prayer beads are made with lavender-colored amethyst. Amethyst is believed to be sacred to the Buddha, so Tibetans make prayer beads from the purple quartz. The crystal has long been associated with healing.
Okay, time to return to prayer.
The next day, for the first time, I prayed the healing rosary Vince had developed for me years earlier, using the gift from Gay. Before I even finished, a call came in from a cancer patient wanting to know where I would next be presenting my talk about the ABCs of healing.
Mother Mary was already extending her healing blessings through me to a cancer patient. I only had to be available and faithful.
Thriver Soup Ingredient:
The word "bead" comes from the old English noun "bede," which means "prayer." Prayer beads are used in most religious traditions. Buddhists, Hindus, and Sikhs use 108 beads; Eastern Orthodox Christians use prayer ropes with 100 knots; Muslims use 99 or 33 beads; Baha'is use either 95 or 24; Catholics use 59. Each number has significance, yet the main point is to meditatively pray using the garland of beads. For example, if you want to say ten Hail Marys, use ten beads. By moving your fingers from one bead to the next with each prayer you repeat, you don't have to keep track of how many you've said; you can simply focus on saying the prayer from your heart. If you don't have prayer beads and want something quick, tie knots in a piece of string to use for meditatively praying.
Sources:
https://en.wikipedia.org/wiki/Rosary
https://en.wikipedia.org/wiki/Amethyst
https://en.wikipedia.org/wiki/Prayer_beads