"Nothing is so heavenly as the embrace of the angels' love."
Gramma, in Emily's Dreamtime, by Heidi M. Bright
Have you ever wanted just one more hug from your loved one who has crossed over?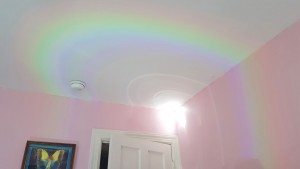 Nothing is so heavenly as the embrace of your own angel's love, the angel of a loved one who has passed away and visits during dreamtime.
It's been about ten months since my teenaged son passed away. I'd been complaining to him a bit lately. Why hadn't he come to me during my dreamtime? He knew I tracked as many dreams as I could.
Yesterday he finally showed up. I felt so comfortable with him in the dreamtime that I didn't realize for a while that he'd finally actually showed up. So I asked him for a hug. He felt so substantial, so real, as I held him for a few moments.
Then he evaporated and I woke up.
What a wonderful gift, to receive a hug from my son from the Other Side.
That afternoon, after I finished meditating, I looked up to see a gorgeous rainbow on my ceiling. A rainbow just as I'd pictured in my children's book, Emily's Dreamtime. Yes, Brennan had paid a visit, had hugged me. The circle is complete.
Thriver Soup Ingredient:
If you have lost a loved one, ask the person to come to you during your dreamtime, and to help you remember it when you wake up.