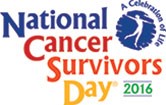 Of all gains, good health is the greatest.
Buddha, Dhammapada 204a
Of all the things humans can acquire, the Buddha recognized nothing was more important than good health. This Sunday, June 5, is National Cancer Survivors' Day, a day I celebrate my good health with nearly five years free of evidence of cancer and free of residual medical treatment.
There are nearly 14.5 million people in the United States living after a cancer diagnosis, according to the National Cancer Survivors' Day Foundation. Some are still in treatment, others are post-treatment.
I am blessed to have learned about and applied so many solutions to these issues. More than 250 practical tips are shared in the book Thriver Soup. My top ten tip list is available free when you subscribe to my blog in the right frame of the page.
A few easy tips were shared on Waves of a New Age through a conversation with host Judy Peace this past Tuesday on WAIF 88.3 FM. Watch for a recording of our conversation to be posted.
Here are three of several shared on the air:
Start every breakfast with a cooked apple (Thriver Soup pg. 113);
Focus on body sensations when meditating (Thriver Soup pg. 338); and
Put on some lively music and move your body (Thriver Soup pg. 171).
Small yet incremental changes can make a big difference in our health and enhance our long-term survival. I'm sure the Buddha will be smiling.
Thriver Soup Ingredient:
Solutions to hundreds of healing issues are available at your fingertips through Thriver Soup.
Sources:
http://www.unification.net/ws/theme018.htm
http://www.ncsd.org/news-1/for-immediate-release-NCSD-2016-communities-to-celebrate-June-5