If one speaks or acts with a pure thought, happiness follows one, like a shadow that never leaves.
Dhammapada 2
Buddha was described by his contemporaries as "ever-smiling." He knew the secret to true happiness came from pure acts and thoughts.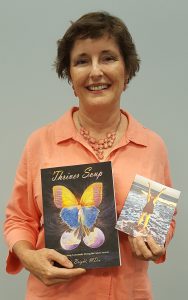 Kylee Brooke Webster found her ever-smiling, happy place when she danced, and made a career counseling adolescent drug addicts.
Unfortunately, she was diagnosed with an undifferentiated sarcoma in 2011. Two years later she danced her way beyond the veil of tears.
She keeps dancing, though, through a foundation established in her honor during 2014. Kylee's Dancing Angels assists other sarcoma patients with finding their happy places by providing financial support so they can do what they love.
I am most fortunate to already be in my "happy place," free of evidence of highly undifferentiated endometrial sarcoma and free of medical treatment for five years. I contacted Kylee's Dancing Angels to see if they could help me give copies of Thriver Soup: A Feast for Living Consciously During the Cancer Journey to other sarcoma patients to increase their chances of getting to their happy places.
Because of the foundation's generous grant, a limited number of free copies of Thriver Soup now are available to leiomyosarcoma (LMS) patients in the continental United States through the National Leiomyosarcoma Foundation (NLSMF).
Kylee's older brother, Allan Webster Jr., wrote, "Kylee loved to read and I know she will be smiling, knowing she is helping you help other sarcoma fighters with ideas on how to improve their journey with sarcoma."
Thriver Soup Ingredient:
If you are a leiomyosarcoma patient or know someone who is, in the continental United States, who would appreciate ideas for how to get to a happier place, please contact me for a free copy of Thriver Soup. A limited number of copies are available. We ask, in exchange, that you write a thank-you card to Kylee's Dancing Angels and make a donation if/when you are able to NLMSF for LMS research.
To donate to Kylee's Dancing Angels to help other sarcoma patients, please visit http://www.kyleesdancingangels.org/.
Sources:
Müller & Maguire, 2002, http://www.pursuit-of-happiness.org/history-of-happiness/buddha/