"`Enter paradise; no fear need you have, and neither shall you grieve!"'
Sura 7:49, Qur'an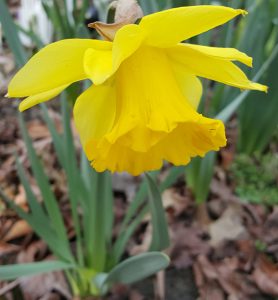 Some people will be surprised by who enters eternal paradise, which is depicted as beautiful gardens, according to the Qur'an.
Sometimes those in the Elysian Fields temporarily pay visits to earthly plots. And sometimes they let us know when they have arrived. By phone, even.
What would you give to receive a quick call or text from a deceased loved one, letting you know he or she is okay—or even nearby?
This immeasurable gift came to me in a dream one warm morning in mid-February.
The phone rings and I pick it up. I hear, "Hi Mom, I'm in the flower garden."
It's my deceased son's voice.
I wake up, filled with that oil-and-water mixture of deep gratitude, love, connection, joy—and terrible sorrow. Sound familiar?
I don't rise quite yet. I bask in the afterglow and wallow in some grief.
Then I go to his garden, started for him behind my bedroom window. Along with the many crocus blossoms I'd already witnessed around Valentine's Day, I discover that Brennan's first daffodil has just opened its sun-ripened orifice. He had come to see his beautiful flowers and be near me.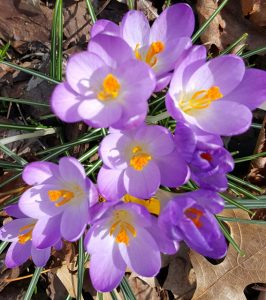 When I started the garden more than a year ago, I had no idea my son would come calling in the middle of winter to see his first daffodil open. With help from several friends I had planted the flowers so I could sit and reminisce and make an offering. For him to visit surpassed my wildest expectations.
Oddly, his timing coincided with the passing of a pastor who, along with his caring wife, had gifted my son with coral bells for his garden. It was like Brennan had visited that particular morning, in time for a memorial gathering, to also say "thank you" to Gary and Liz for their thoughtfulness and for indirectly helping me heal my grief.
While I did not know Gary well, I knew he had worked for years with my friend who also had lost her son. My friend gradually attained serenity and acceptance around her son's passing.
The moment she learned that Brennan had passed, she arrived to sit by my side, hold me, and sob with me. Yet through her tears, she glowed with the radiance of peace. I looked  her in the eyes and said, "I want that." And she helped show me how. Because Gary had shown her how. Gary's loving influence continues now through me. And Brennan's lost life will be used to help others make better choices and also let go of grief and enter paradise.
Thriver Soup Ingredient:
How have you connected with a deceased loved one? A friend of mine places a rose under a specific tree at the Kentucky Horse Park each year when she visits, honoring a special friend. The possibilities are as open as we are creative.
Source:
http://www.islamicity.org/quransearch/action.lasso.asp?-db=Quran&-lay=tblMasterTranslit&-format=SReply1.asp&-op=cn&Topics=1674&-token=Gardens%20of%20Paradise%3C!–Asad–%3E%7C%7C%3Cta%3Etrue%3C/ta%3E%3Ctt%3Etrue%3C/tt%3E%3Cts%3Etrue%3C/ts%3E%3Cdc%3Etrue%3C/dc%3E%3Ctx%3Etrue%3C/tx%3E%3Cal%3Etrue%3C/al%3E&-Sortorder=ascend&-Sortfield=cv&-find