The light circled his head and shot into the sky, rising toward the fat full moon that hung over the chimney of Caspar's little house. The light rose higher, and the voice called, "Come with us … there's plenty of cheese."
Caspar's mouth began to water. "What have I to lose?" he asked, so he began to follow that light…
"The Boy Who Loved Cheese," as told by Amy Friedman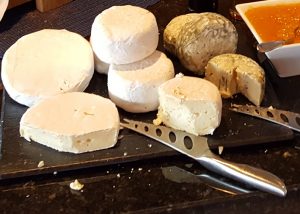 In this Dutch folktale, a boy can't stop eating cheese… until fairies force him to eat more than he can stomach.
I understand his love for cheese. I indulged in dairy for a month in Europe without any of my usual digestive issues. Last week's Thriver Soup blog about dairy evoked several thoughtful responses, which I would like to share.
One reader in Norway wrote, "I don't know why you can eat European dairy products, but not American ones.
"But I know that Norwegian cows are not 'happier' than American ones. Norwegian cows get power fodder, they rarely leave their stable, they are bred to give as much milk as possible. They would die without their special fodder, because so many nutrients go into the milk that the cow would be depleted and even die without it.
"I am quite sure that the same is the case for most European cows, except the few that are explicitly kept organically.
"Sheep and goats get to run around more freely in Norway because they are not milked. The downside: they are in danger for being eaten by wolves. And many of them are slaughtered in fall.
"So, sorry, but Europe is not quite as romantic as your blog suggests…"
So what is different about European dairy and United States dairy that enables me to eat it?
A reader from Ecuador offered some ideas about the differences. "The dairy thing in the U.S. is really toxic, I think. As you know, growth hormones, antibiotics, bleaching agents…who the heck knows? Here in Ecuador we buy milk and creme which are an ivory color. No stuffy noses anymore! All of the agricultural products are grown on small family farms. I feel so nutriented! We can even buy some organic products!"
Whatever the difference is, for cancer patients, dairy is still a product perhaps best limited or even eliminated from the diet. Robert Cohen, the NotMilkMan, writes, "Eighty percent of milk protein is casein and most people react negatively to casein, but there is a type of casein some cows produce which does not cause the traditional problem. Those other 20% of milk proteins include a protein hormone (insulin-like growth factor-1) which has been identified as the KEY factor in the growth and proliferation of every type of human cancer. As a human cancer begins its growth it is silent and painless. When the tumor becomes large enough, it becomes its own endocrine gland, secreting internally an abundance of IGF-1 which promotes its growth as it metastasizes."
Perhaps it's a good thing Caspar decided to limit his cheese intake.
Thriver Soup Ingredient:
If you want to limit or eliminate dairy, there are lots of great substitutes on the market. My current favorite is organic coconut butter diluted with water when I want something with a milky or creamy consistency. What is your favorite non-dairy substitute?
Source:
http://www.uexpress.com/tell-me-a-story/2009/4/26/the-boy-who-loved-cheese-a