Recall that you said, "O Moses, we can no longer tolerate one kind of food. Call upon your Lord to produce for us such earthly crops as beans, cucumbers, garlic, lentils, and onions."
Sura 2:61, Qur'an
Who would want manna, manna, and more manna, when the earth produces so many delicious vegetables? I'd certainly be complaining if I went 40 years without beans, cucumbers, garlic, lentils, and onions. I frequently eat them at home, but not when traveling.
Yet in a way I had fallen into a narrow focus for my go-to veggies when away from home. I am tired of carrot and celery sticks. Are you tired of them, too?
When I packed for my summer flight to Norway, I didn't want those boring old stand-bys. I wanted finger-food veggies that tasted good on their own and could withstand travel.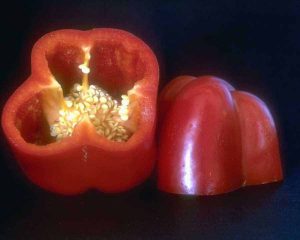 So I went to the grocery store and stalked the produce section for delicious veggies. I surprised myself and bought a cucumber, a red bell pepper, and sugar snap and snow peas. At home, the cucumber and pepper were quickly sliced into strips and placed in little snack baggies with a piece of paper towel. The peas were already clothed in their own little natural packages. During my 23-hour trip I was delighted to eat these crunchy, healthy snacks.
Another option, if you can find them fresh, is jicama. This crunchy root has a sweet, nutty flavor. Peeled, cut into strips, and placed in a snack bag, they can make a great addition.
While on my trip without my pocket knife, I continued eating fresh, raw peas as a snack or part of a packed meal. They were readily available in grocery stores. Once I even found baby cukes in a cup. They didn't last long in my hands. And I hadn't even called upon the Spirit for them.
Thriver Soup Ingredient
Perhaps plan a quick trip to the grocery store for fun veggies to munch on during your next trip.  You can look up their nutritional status here.
What are your favorite traveling veggies?