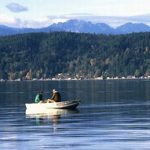 "Row, row, row your boat / gently down the stream; / merrily, merrily, merrily, merrily, / life is but a dream."
On one level, this nursery rhyme is just a fun song to sing, especially in multi-part harmony. Yet it contains what might be a profound truth: life as we know it could be but a dream.
In the 2010 movie Inception, the main character and his wife spent fifty years within a dream constructing a world of their own choosing. What if this human life we are living also is a dream that has been constructed? What if, when we pass away, we wake up from this human dream and realize this drama does not encompass our true nature, who we really are?
This idea has been around for millennia. The Hindu scripture, The Bhagavad Gita, explains that our ability to dream demonstrates that all of creation itself is a dream, an illusion.
How can this be? British philosopher Alan Watts explained it beautifully in a lecture. He posed the idea that if we could stuff 75 years of life into one night of dreaming, and we could control what happened, and we could do this every night, we would spend the first few months fulfilling all our wishes while in the dream state.
After a few months we'd get bored and start adding adventures to our dreams. Then we'd get tired of that and we'd add a new dimension—forgetting that we actually are dreaming while in the dream. We would enter into the dream state and believe the experiences were real, which would give rise to fear. Yet it would be safe to try this, because when we woke up we would know it was all "only a dream."
And with all the possibilities the universe could offer, we would eventually end up dreaming the kind of life we humans live now, playing with infinite possibilities and forgetting, while in the dream, that we are only dreaming. Watts says, "the whole nature of the Godhead, according to this idea, is to play that He's not…. What you are, basically, deep deep down, far far in, is simply the fabric and structure of existence itself. And when you find that out, you laugh yourself silly. You yourself are the eternal energy which appears as this universe."
Indian yogi and guru Paramahansa Yogananda said much the same thing in "Awake from this Dream into Your Oneness with God." "If in a dream you feel your leg crushed under a car, your suffering seems just as real as if your limb were actually injured. But when you wake up, you laugh and say, 'Oh, how silly. It was only a nightmare.' This is exactly what will happen when you wake up in God.
"God's dream creation was not meant to frighten you, but to prod you to realize finally that it has no reality. So why be afraid of anything?"
The implication is that this life is only a dream, and it is only real while we are living it out as humans in three dimensions.
Great spiritual masters tell us that eventually we will wake up and truly know this life is but a dream. They teach that one way to wake up from this nightmare is to meditate. Yogananda, however, warned, "To state that the world is a dream, without trying to attain in meditation actual realization of this truth, may lead one to fanaticism. The wise man understands that even though mortal life is a dream, it contains dream pains. He adopts scientific methods to awaken from the dream…."
Thriver Soup Ingredient:
While we are in pain, meditation is pretty much impossible, even for those who practice regularly. Pain consumes the mind.
If you are struggling, perhaps you can find a small amount of comfort from maybe playing a little bit with the idea that while we are living a nightmare now, at some point we might wake up from this agony and feel far better.
Sources:
Alan Watts lecture at https://www.youtube.com/watch?v=G79EHVjLgwU
Excerpts from a talk by Paramahansa Yogananda titled "A New Look at the Origin and Nature of Cosmic Creation" printed in "Awake from this Dream into Your Oneness with God"
Bhagavad Gita V:18, "The Universe—God's Magic Drama," Volume I, No.22