Books are the treasured wealth of the world and the fit inheritance of generations and nations.
Henry David Thoreau, Walden
It was a book lover's dream. Only small wrapped tomes we had brought lay around the beautifully decorated tree.
About 15 children's book writers and illustrators circled up. Before we picked out our packages, we were asked to give brief descriptions of what we currently were reading. How fun to hear people talk about the details of the writing skills of the authors—books they did, or did not, enjoy, and why.
Then we took turns selecting gifts. If we wanted to, on our individual turns, we could steal what someone else had already opened. In turn, someone could steal what we held in our laps.
Writers kept stealing a book about writing prompts and another about how to write for the screen. The most unique gift was an old book with the center cut out and a gift card and chocolate bar placed inside.
Interestingly, no one stole that gift, though the owner had squealed with delight when she opened it.
Clearly we were all bibliophiles.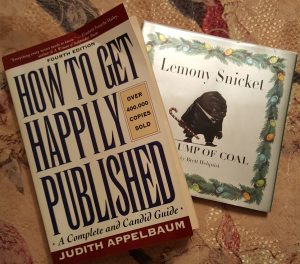 My package contained a double delight, which I managed to bring home—How to Get Happily Published and Lemony Snicket Lump of Coal.
I'm grateful there are still booklovers among us—people who love the look and feel of a book, people who love to turn pages, people who know what makes for good writing.
Books helped save my life after I was diagnosed with highly aggressive end-stage cancer—especially Waking the Warrior Goddess by Christine Horner, M.D. They pointed to important studies that gave evidence for integrative practices I used to help my body return to health. They helped me understand what so-called solutions to avoid. And they helped me heal my life with insights and understanding.
The books I read during my journey back toward health are referenced in the back of Thriver Soup. For me, books are not only my treasured wealth, they also are life savers.
Thriver Soup Ingredient:
For a list of resources beyond Thriver Soup, see references used in the book on pp. 358-375.
Source:
Henry David Thoreau (July 12, 1817–May 6, 1862), American essayist and poet.