Did you know the seaweed nori, used to make sushi, is a source of Vitamin B12? This is one of the things I learned during the Annie Appleseed Complementary and Alternative Medicine cancer conference March 1-3.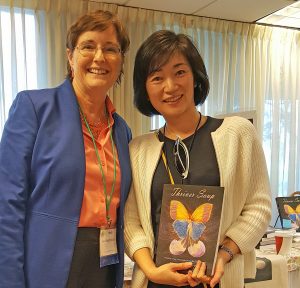 I had spoken on Thursday to a crowd of nearly 200 about creating conditions for thriving, including how to determine your nutritional status. The annual national gathering, in West Palm Beach, Fla., explores both integrative and alternative cancer treatments.
On Friday, an oncologist and a gynecologist searched out my book-signing table. They bought a copy of Thriver Soup.
The next day they came back to my table and purchased a second copy.
Another woman came to my table during Friday's events and purchased a copy of Thriver Soup. The next day she also came back, telling me she had a large number of cancer books at home, yet Thriver Soup topped them.
The food was incredible—only organic, and mostly fresh, raw and local; no gluten, no dairy, no meat. I have never eaten such healthy food in a hotel or at a conference.
To hear a quick, free version of my talk, come to the Art of Healing: Spring into Wellness Fair  on Saturday, March 17, at 250 East Main St., Batavia, Ohio, 45103. I will speak at 1:45 p.m. I also will be presenting the full talk at 2 p.m.  April 7 during the Victory of Light Festival at the Sharonville Convention Center in Cincinnati, Ohio.