So you are told you are free of evidence of disease.
YIPPEEEE!!!
And…
What do you do now?
How many people are told they have no evidence of disease, only for the cancer to come roaring back months, or even years, later?
Knowing this, do you go back to living the way you did when you were diagnosed? Or do you change your life on a permanent basis to increase your chances for long-term survival?
When I struggled for 2 terrible years to get into remission, I understood that any change I made most likely needed to be permanent. I knew that the way I had been living had contributed to the development of the cancer; the logical choice was to change my life so the cancer would no longer feel at home in my body.
I know my life patterns led to the collapse of my health. They had to be changed for me to get permanently out of trouble. One aspect was my diet. Before the cancer, it was pretty good–lots of certified organic produce–but after the end-stage diagnosis I ramped it up considerably.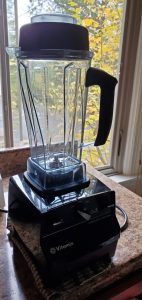 One permanent change was creating a daily green smoothie. Soon after the diagnosis, my brother Walter gave me a Vitamix, a high-speed blender I wanted so I could make those sludgies.
After 12 years of daily use, sometimes hard use, sometimes 3-times-a-day use, my Vitamix finally gave out.
I have lived longer than my Vitamix! That is truly miraculous.
I immediately bought another machine and plan to continue using it daily for the rest of my life. Unless I outlive this one, too. Which, of course, I fully intend to do.
It's already getting hard workouts. After only a week the pitcher has a slight fogginess to it, because my smoothies are full of minerals and vitamins. The cloudiness bears witness to all the nutrients I'm getting. Weeds in my garden are fair game. Today's sludgie was blanched dandelion greens, stems and flowers, concord grape seeds, red clover flowers, and eggshell membranes. Not at all delicious, but that is not my goal. I aim for maximum nutrition for maximum health.
That was my goal during the cancer treatment, and everything else I did was aimed at my goal of survival. I changed every other aspect of my life to improve my chances of living. Once I had made enough changes–to everyone's amazement–I went into radical remission.
And have stayed healthy for ten full years, receiving no treatments at all and showing no evidence of any disease.
So I am keeping these changes because I like being healthy and alive! And I am delighted to have outlived my blender.
If you are looking for guidance on how to get out of cancerland, perhaps we can work together to free you so your body can do what it does naturally–heal itself. As a Champion in Cancer Care, I can offer insights and wisdom to ease your way.
513
444-0190