I am responsible for his death. I never paid any attention to Black Gold's lameness; he always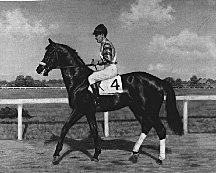 seemed to work out of it.
H. Webb, trainer, in the fiction book Black Gold
A hairline crack developed in the hoof wall of the Thoroughbred Black Gold as he raced through the spring of his three-year-old season. Despite the soreness this created, he won the 1924 Kentucky Derby. His trainer kept pushing the stallion anyway, and the jockey, Jaydee Mooney, stopped riding the lame horse in protest. The injury was left untreated and worsened. Eventually the brave racehorse broke that limb during a race, finishing on three legs. The beloved racehorse was put down.
I read his story, by Marguerite Henry, when I was in grade school. While very sad, I loved the tale. This year I found the same hardback book for $1 and brought it home to reread.
The parallels with my life were too obvious. I didn't give much heed to the "benign" fibroid in my gut that grew unreasonably large. Two good friends found it frightening and urged me to get to a doctor as soon as possible.
By this time I was out of town. Through a long process, I finally decided to go to the emergency room. A small problem, like Black Gold's hoof crack, left unattended, became deadly–a stage 4 uterine sarcoma.
It's easy in our culture, with our "grin-and-bear-it," "no pain, no gain" athletic mentality, to ignore our bodies' warning signs. Yet our bodies give these signals because something is out of balance and needs our attention. Small problems, if attended to quickly, can stay small and be fixed, or at least controlled. Left on their own, they can become insurmountable issues.
Thriver Soup Ingredient
One fallout from a cancer diagnosis is that every headache, skin bump, or new pain brings up anxiety around the idea that it could be cancerous. If the symptom persists, it might be a good idea to get it checked by a doctor.
Sources:
https://en.wikipedia.org/wiki/File:Hof9.gif
Marguerite Henry, (Author), Wesley Dennis (Illustrator), Black Gold (Rand McNally, 1975)