… rendered reckless by despair, you let yourself fall backward into the arms of nothing. This—according to John of the Cross—is a blessing of the highest order.
Tell that to the mother of a dead child.
Mirabai Starr, Caravan of No Despair
Have you ever been rendered reckless by despair? Fallen backward into the arms of nothing? Or even lost a child?
Mirabai Starr writes about her dark night of the soul that began the day the police showed up at her doorstep. Her 14-year-old daughter had just been killed in a car accident. It happened on the very day the first copy of her published translation of St. John of the Cross's Dark Night of the Soul had arrived.
"… all the ways you have been accustomed to tasting the sacred dry up and fall away," she writes. "All concepts of the Holy One evaporate. You are plunged into a darkness so impenetrable that you are convinced it will never lift. You may flail about for something—anything—to prop you up, but you grasp only emptiness."
Twice I have lived through such a dark night of the soul—each time for seven years. And both times I came out on the other side a transformed person.
This is not about depression, or depressing circumstances, though those can plu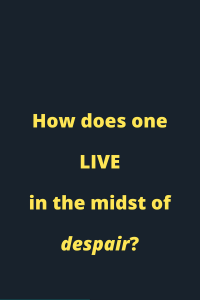 nge one into a dark night of the soul. It is about losing one's sense of connection with the Divine. It is about feeling spiritually incapacitated, unable to pray or meditate. For me it began in 2009 with an end-stage cancer diagnosis, and I hit bottom six years later when my son Brennan passed away.
During those years, Tara Robinson, editor of Whole Living Journal, recognized the transformations as they were occurring. She honored those shifts in 2014—while I was still in the thrall of my dark night—by creating the Voices of Women Award for outstanding achievement in personal growth and transformation. She recognized that these hidden soul excavations often go unrecognized, even though they totally change a person.
Many people live through dark nights of the soul. How does one live in the midst of despair? How does one pick up the pieces and create something new and more beautiful?
I want to tell you from my heart that whatever you are going through, you can find light and joy. It is living in you, even if it is layered over by pain, rage, terror, grief, and confusion. It takes determination to find it. And for many, finding the light again is a long, slow, agonizing process. We do have a choice. We can languish or we can move toward thriving.
There are strategies we can use to help us cope and eventually transform. I gained those tools during my cancer journey and continue to use them. I will be sharing some of those tools Saturday at Cincinnati's Victory of Light in the Sharonville Convention Center. My talk is at 3 p.m. If you cannot make it, contact me to schedule a speaking engagement.