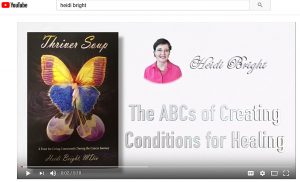 Create conditions for radical Healing in your life. Find simple solutions by updating your attitudes, behaviors, and making major life choices to influence cancer and other dis-ease outcomes. If you have cancer, ALS, Parkinson's, or other "incurable" dis-eases, find relief and personal healing by using these concepts.
I was told to get my affairs in order after two years of conventional treatment for highly aggressive end-stage sarcoma. Yet against all odds, I have enjoyed radical remission since 2011, free of evidence of cancer and free of cancer treatment. Find out what I discovered about changing attitudes, behaviors, and making major life choices that can assist you with turning the corner and thriving.
This short series comes in 4 brief parts and is posted on youtube.
Part 1: How I healed from highly aggressive end-stage cancer.
Part 2: How you can change attitudes to stop being a victim, stop worrying, and let go of resentments.
Part 3: How you can change behaviors such as knowing your nutritional stats and improving it; a sample spiritual practice that gets you out of your head; and how to manage difficult emotions.
Part 4: Putting it together with making major life choices to heal your life, which can help your body rebalance and heal itself.
Please enjoy and share, and let me know about speaking engagements where I can share this important message.
Many thanks to Jim Gray, with Gray Solutions, for creating this new video for Thriver Soup!