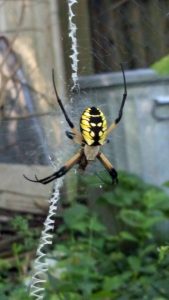 "How can you be a symbol of strength?" said the chief. "You are small and weak, and I didn't even see you as I followed the great Deer."
"Grandson," said the spider, "look upon me. I am patient. I watch and I wait. Then all things come to me."
"The Spider and the People," an Osage Legend
Like the chief, I almost didn't see the spider in my garden a year ago—even though it was about three inches long. This black-and-gold arachnid had spun a large circular web. I stopped in time and held my breath.
I had heard arachnids symbolize the scribing arts because they weave webs as writers weave stories. This Yellow Garden Spider is called an orb weaver. Maybe like the large round web, it was letting me know there is a big story I am being asked to craft.
Yet I knew it wasn't time. I had lost my son less than a year earlier and still needed months, if not years, to process my grief. The creature's message was, yes, write; yet be patient. The time will come.
Another year has gone by. I have survived all the major holidays and anniversaries. I have blogged about the tears, the connections, the dreams. I have read through all my journal entries from the time I was pregnant with Brennan, reliving every one of the thousands of moments I had recorded about his life.
Late this spring I knew it was time to begin the way orb weavers start their mandala-like webs. They cast strands into the wind so the white wisps catch on something. Several weeks ago, I cast my story strand out to my publisher. Would he like a book from me about grieving?
Patiently I waited.
A few missed calls.
Finally, his voice on the line.
Jim didn't ask me anything. Not about readership, not about marketing, not about platform. "This book is really needed," he said. "Get crackin'."
Like the orb weaver's web, the first strands of this story are haphazard. Loose connections form the beginning structure of the book—a section about Brennan's life to provide context and emotional connection, and a section designed to assist others with the grieving process, similar in style and voice to Thriver Soup.
Yet it was incomplete, like the initial lines of a web. My friend Mim Grace suggested another section for those standing on the sidelines. How do we interact with a person who is grieving? What do we say and not say? What about the sorrow of other family members, especially children?
To complete the sacred structure, I needed a professional editor. A man who knew Brennan years ago, who had lost his own son, and who had a lifetime of writing and editing experience, stepped forward.
The pieces are falling into place, as the initial spider's home structures form a lattice. These beginnings have to be integrated for the rest of the orb to grow around and through them.
I am ready to weave around these structures, writing and editing, improving and revising. The filaments will form, with a characteristic orb-weaver ladder in place for me to move around easily within the wholeness of this gift. I plan to be patient, watching and waiting, and remain open to ideas, as some orb spiders frequently take down their webs and recast them.
Thriver Soup Ingredient:
Help me make this book the best it can be. Please forward this post to those who are grieving and ask for ideas on what would make this book a valuable guide for those navigating grief. Thank you.
Sources:
http://www.firstpeople.us/FP-Html-Legends/The-Spider-And-The-People-Osage.html
https://en.wikipedia.org/wiki/Argiope_aurantia
http://southernwilddesign.com/argiope-the-common-garden-spider/