And Jesus cried out again with a loud voice, and yielded up His spirit. And behold, the veil of the temple was torn in two from top to bottom…
Matthew 27:50-51a, New American Standard Bible
At the moment Jesus died on the cross, the veil in the Jewish Temple (that separated people from the Holy of Holies) was rent in two, according to one of the Christian gospels. This symbolized the end of separation between humans and the Divine.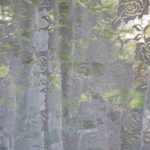 Sometimes we have mental veils that separate us from the Divine, or from unconscious tendencies within ourselves. These curtains need to be found and dropped if we want to see ourselves more clearly.
I had a new veil to rend. My discovery of this separation began with a horrifying, potent dream this past week. I knew I needed to go back into this nightmare, using my imagination, to understand its message more clearly and possibly heal something. Healing on this level can influence the health of our bodies.
Easter felt like a perfect day to focus on resurrecting my own hidden personality aspects.
To prepare, I set up my meditation space with my journal and Vince Lasorso's "Focused Relaxation" CD set on repeat.
Settled in my chair, I prayed for guidance. Then I imagined myself back in my dream, which was set on the lawn in front of the administration building at my alma mater. I walked up to an unknown woman who was directing some unfortunate activities. Treating her as a real person, I began asking her questions.
She didn't answer me. She had a job to do.
Then I felt a sudden, gratifying rush of energy as something clicked—the "administration" building represented someone from my childhood who played a large role in my mental development. This person possessed a powerful sense of right and wrong, good and bad, and I had carried those imperatives forward in my own brain's administrative functioning. I realized the unknown woman was unconsciously carrying out those dictates. This meant a part of my personality had continued, at times, to act without my awareness, expressing masculine qualities without regard for the more feminine values of compassion, love, and kindness. Those unconscious aspects needed to be made more conscious and integrated so I could make healthier choices.
With this insight, I became aware of new fears I had not known were operating in my life. Because I adopted those values as a small child, I also adopted the childish perception that if I did not follow those rules, I would be abandoned and might die. That outdated way of perceiving could now be healed.
I wrote down several possible statements about my newly owned fears and how they affected some of my choices. I settled on one that felt right—it was convoluted and difficult to remember, but it fit exactly what had been happening in my psyche.
Statement in hand, I began doing the Emotional Freedom Technique (described on pg. 201 in Thriver Soup). I had to do five full rounds of tapping to get the feeling sense down from a high of ten to a three.
With the intensity greatly reduced, I decided I was ready to forgive the "administration" individual for pushing these one-sided ideas on me, and to forgive myself for sleepwalking through my entire adult life without questioning this aspect of my personality.
I pulled out my forgiveness process papers, based on the book Radical Forgiveness by Colin Tipping. I spent a couple hours feeling and writing my way through the 20+ steps.
Evening was descending. I re-entered my dream and this time imagined I was the woman directing the activities on the lawn. I looked out through her eyes. She appeared to have sheer curtains in front of her face. Everything beyond that white veil was indistinct. She was not really seeing what she was doing.
And then the cloth spontaneously dropped away from her face. She could suddenly see clearly, for the first time. And she was horrified by her activities. She stopped, offered assistance to the other people, and began making amends.
She had been granted sight, as I had been. The veil was rent and the separation ended. An aspect of my personality had been resurrected from the dead.
Thriver Soup Ingredient
We can't really see the veils over our mental eyes unless we try to access them through dreams, active imagination, talking with others, writing with our non-dominant hands, or using other methods for excavating our inner lives. And we have to be ready to see these hidden aspects. Perhaps ask in prayer for the willingness to be open to seeing unconscious parts of ourselves. The simple sense of willingness might part a veil enough for us to better see.