Those who act kindly in this world will have kindness.

Qur'an 39.10
I was in need of much kindness.

I was a single mother whose firstborn had recently passed away and whose only other child was spending Christmas with his father.
Dread filled my heart when I thought about the upcoming holiday. Christmas 2014 had seemed horrible enough. My 19-year-old had purchased a one-way ticket to hell years earlier–turning to substance abuse, most likely in part because of my end-stage cancer diagnosis in 2009–and he was dragging us along. We spent three long hours in a drug rehab facility. A thick blanket of pain hung heavily around each person as we ate, played bingo, and strained to make small talk. Anger, hurt, sorrow, fear, and powerlessness pervaded my being.
My son ended up doing what most heroin addicts do—he overdosed in June. Then a friend of his overdosed before Thanksgiving, bringing another cascade of grief.
What to do for Christmas this year? I wanted to avoid sobbing into a cup of tea all day. Lovely friends invited me to join them, and I am grateful, but it still would have been a horrible holiday. I knew I needed to get completely away from the memories for awhile.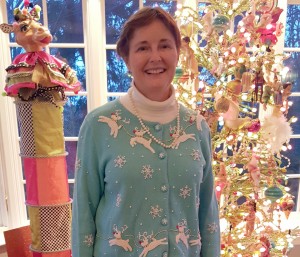 Then I had a conversation with one of my sisters-in-law, followed by an invitation to Seattle for the holidays.
It was perfect. I left a week before Christmas and stayed well into the new year to avoid emotional triggers. They piled my lap with more gifts than I have received in decades. My sister-in-law cooked amazing meals and showed me the treasures she had been collecting for a museum she plans to open in Astoria, Oregon, in June. I also disappeared into my deceased parents' past, scanning hundreds of old family slides and transcribing German letters.
My brother and his family acted with great kindness, and I am so grateful. I actually had a really nice Christmas.
Thriver Soup Ingredient:
If you know someone who has suffered a great loss, your kindness is deeply appreciated.