… (Krishna) drove that best of chariots to a point between the two armies, in front of Bhishma, Drona, and all the rulers of the earth, and then said: "See, Partha (Arjuna), this gathering of all the Kurus!"
The Bhagavad Gita, 1:24-25
The Hindu god Krishna drove the best of chariots into battle. The chariot can be a metaphor for one's body. If one's chariot, or body, is not in the best condition, it can seriously hamper every aspect of one's life.
I had let my chariot lose some of its fitness recently. My exercise life had succumbed to the excuses of grief after losing my son and the move into my new home. Later I listened to my guided visualization CD, "A Conversation with Dis-ease," and received the message that it was time to let go of regularly walking for exercise due to a lifetime of issues with my toe joints.
Yes, they were excuses. My psychotherapist called me on it, then encouraged me, once again, to exercise regularly—preferably 150 minutes per week. I was only doing about 60. Time to ramp it up.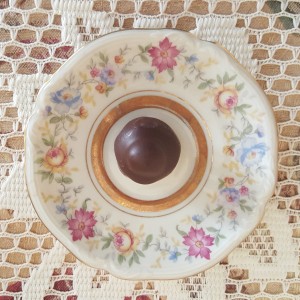 After I got home, I felt nudged to get my exercise for the day by walking to a nearby grocery store to pick up more onions. While in the store, I took a look at the clearance shelves in the back. I was shocked to find my all-time favorite chocolate-hazelnut truffles there at one third the usual price—expensive chocolates I had only ever seen in two other distant stores in town.
Was that nudge from my son to make sure I had these special Italian chocolates for celebrating Valentine's Day? I'd like to think so.
I took home two bags of the sweet treats.
What a wonderful gift for following through and doing my part to get my chariot back in shape. Just in time to enjoy some luscious truffles for Valentine's Day.
Thriver Soup Ingredient:
Exercise is important for numerous reasons. A common recommendation is 30 minutes of exercise five times each week. Some people use pedometers or download exercise apps on their phones. Some tips for getting started include parking at the far ends of parking lots, taking stairs if and when you can, or simply tensing and loosing muscles while lying in bed if that is what you can do.
What is your favorite form of exercise?
What is your favorite kind of chocolate?