The remembrance of Thee is a healing medicine to the hearts of such as have drawn nigh unto Thy court.
Prayers and Meditations, by Baha'u'llah, trans. by Shoghi Effendi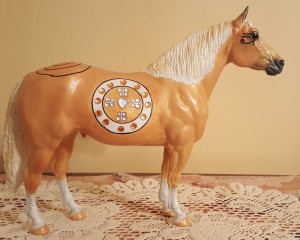 While the Divine provides healing medicine to our hearts, cancer patients still often need the healing medicine of basic scientific research and clinical trials to heal the rest of their bodies. These cost huge amounts of money.
Now we can bring the healing medicine of our hearts to the heArt of healing. An organization for a rare type of uterine cancer is conducting an art auction to raise funds for medical research.
Research done in the past literally saved my life by discovering a few chemotherapies that can slow the growth of uterine sarcomas. Yet after three types of combined chemotherapies for two years, I was sent home to get my affairs in order… because there were no more medical options available to me. Had I not healed my life during those two years, and been so supported by others, I would be long gone by now.
Hundreds of uterine sarcoma patients live on the edge with this aggressive disease. They need new options to keep going.
To assist with funding research, I have donated a golden Bright Spirit Horse with hearts in sacred geometrical designs to the heart-themed art auction. The organization conducting the event is LMSdr, which stands for Leiomyosarcoma Direct Research. While I did not have a leiomyosarcoma, I received the treatments used for those who have leiomyosarcomas. Their healing medicine gave me time for my heart-healing medicine to take effect and save my life.
Thriver Soup Ingredient:
To view and bid on heart art, please visit http://lmsconference.myevent.com/3/auction.htm
Place your bid by April 9. The art will be shipped to the winning bidders directly from Leiomyosarcoma Direct Research Foundation, (LMSdr). Please take a look and share with your friends. Simply click the email icon on the auction page and send a note to a friend about the art auction, or click on the Facebook icon or just like the  Facebook page:
https://www.facebook.com/LMSDRARTAUCTION/
With your help we can all make a difference. Thank you!
Source:
Prayers and Meditations, by Baha'u'llah, trans. by Shoghi Effendi. Baha'i Publishing Trust, Wilmette, Ill, ninth printing, 1996, LV, p. 58.