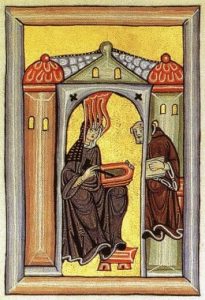 Rivers of living water are to be poured out over the whole world, to ensure that people, like fishes caught in a net, can be restored to wholeness.
Hildegard of Bingen
Hildegard of Bingen, German Benedictine abbess and founder of scientific natural history in Germany, believed that the Divine pours out living water upon the earth to bring healing to all. She believed people can be restored to wholeness.
It has happened for me. This year I celebrate that I have lived longer than my mother lived.
This is significant in my eyes, because she passed from breast cancer. I, also, was diagnosed with terminal cancer. I now have flowed past her last birthday and have outlived her. I have exhaled a huge sigh of relief.
I'm not the only one snared by the family cancer net. My mother was diagnosed when I was a tween. One of my sons was the same age when I was diagnosed with a sarcoma. It definitely appeared to be a pattern. A pattern that needed to be eliminated.
The first step, of course, was being aware of this pattern. On its own, this acknowledgement reduces its strength. It frees us up somewhat from carrying out the repetition compulsion. Now at least part of the burden has been lifted from his shoulders. Of course, this brings me even more relief.
And a restoration of some wholeness.
Thriver Soup Ingredient:
Sometimes families have patterns of illness or of passing. Being aware of the patterns is the first step in healing them.
Source:
http://www.azquotes.com/quote/865103, possibly from Hildegard of Bingen, "Book of Divine Works", Part III, Vision 3
Image is in the public domain.