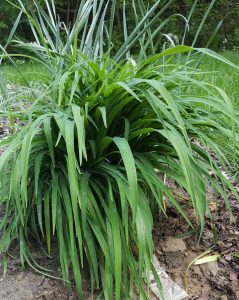 Consider the lilies of the field, how they grow: they toil not, neither do they spin. Even Solomon in all his glory was not arrayed like one of these.
Matthew 6:28-29, Christian Bible
The lilies in my neighbor Jennifer's yard had grown so much that "on a whim" she was outside, digging up a large swathe of them. Just as my son and I were walking by—which we only do once every week or two.
Had we walked by an hour earlier or later, she would not have been working on the lilies and they would not have been available.
The timing of her whim proved perfect. She offered them to me. In time to plant for Mother's Day.
Lilies are considered by some to symbolize motherhood. This arises from an ancient Greek myth that the goddess Hera's milk overflowed, and the milk that fell to the earth splashed and formed white lilies.
White lilies often appear in paintings of the Madonna when being told she will bear the Christ Child, once again tying the flower to motherhood and new beginnings. This new beginning extends to restoration of innocence for the souls of the departed.
My own mother is among the departed–I lost her decades ago to breast cancer. And I lost my son Brennan less than a year ago.
These flowers aren't the first lilies to show up near a holiday. A stylized lily, referred to as the fleur-de-lis, was on a red vase that appeared on my porch in time for Christmas—a surprise package I believe Brennan had a hand in getting delivered. Now bunches of the real deal are growing in my yard.
The connection is clear to me. I believe Brennan, and perhaps my mother as well, had something to do with my neighbor's "whim" and the timing of my walk, so I would have lilies in his memorial garden in time for Mother's Day. And there were enough to plant some in the front yard, adorning an area designated for my other son's plants. I look forward to their summer glories.
Thriver Soup Ingredient
If you would like to grow lilies, here is a guide: https://www.almanac.com/plant/lilies
Sources:
http://www.whats-your-sign.com/lily-meaning.html