The greatest method of praying is to pray the Rosary.
-St. Francis de Sales (1567–1622)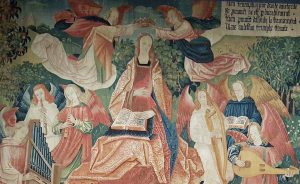 Is the Rosary, a series of meditative prayers, the greatest method of praying, as this 16th century saint proclaimed? If so, would using the Rosary–or any other method of intercession–have any influence at all on the deceased?
What are your thoughts on this?
St. Francis de Sales must have had some reason for making this seemingly absolute statement. Catholics say the Rosary using a string of beads to keep track of where they are in the process so they can free their hearts and minds to focus on the connection this method makes with the Divine. Each prayer of the Rosary is said to represent the offering of a rose to Mary, mother of Christ, and when the cycles are completed, the person has symbolically given Mary a complete crown.
Maria Luisa Giuliberti, my former neighbor, asked if I would like to come pray the Rosary with her to mark the one-year anniversary of my son Brennan's passing. Sure!
Synchronistically, Vince Lasorso, a tai chi grandmaster in Cincinnati, sent me a draft of his book, Healing through the Heart of Mary: A Miraculous Journey to a New Spiritual Way. "Mary teaches us, from her supernatural perspective, a spiritual process, The Rosary, that enables us to meld the two realities [the supernatural and the mundane] together in our lives," he writes, "[to] heal ourselves, our loved ones, and our world through a heart-driven technology of inner peace and resonance."
Maria and I sat at her dining room table and she showed me a pamphlet containing the rosary prayers. We set the intention of praying that Tristan would let go of shame, guilt, and remorse, and to experience peace. Holding our rosaries, we intoned together for an hour, raising up our intentions and prayers.
I am grateful to my friend for remembering the anniversary and for her willingness to spend time praying with me on my son's behalf. What a beautiful gift. Was it the greatest method of praying for my son? Did it have any influence on him? I don't know, yet I felt like I had done something meaningful, a gift from my heart to his and Mary's. That is enough for me.
Thriver Soup Ingredient:
If praying the Catholic rosary interests you, here is a link to instructions and prayers: http://www.catholic.com/tracts/the-rosary
Sources:
www.catholicgallery.org/quotes/quotes-on-rosary/
Francis de Sales, a Catholic saint, was a Bishop of Geneva.
Vince Lasorso, Healing through the Heart of Mary: A Miraculous Journey to a New Spiritual Way, draft, pg. 7.
Tapestry: Cleveland Museum of Art