Note: I am largely off the internet at the moment. Guests have graciously offered blog posts that I believe will be of interest. Today's post is by Chef Lori Pierce (Lula) of Cincinnati, OH. With July 4 gatherings on the horizon, she offers these tips for enhancing your picnics. Lula has contributed to recipe development for companies such as Kraft, Nestle, Unilever and McCormick. Check out her blog here: http://lulasforlunch.com/blog/
By Chef Lori Pierce (Lula)
How to Pick a Pineapple
How do you pick a pineapple in a store? I always pluck out a center leaf – if it comes out quite easily the pineapple is ripe. Now that I've let the cat out of the bag, though, I guess everyone else will do the same and when I get there, maybe that's not such a good test anymore. So, I'll smell it at the stem end. The stronger and sweeter it smells (it should reek of pineapple), the riper it is. If you need a pineapple and they are all giving off only faint smells, buy one and let it sit on the counter for a couple of days 'till the aroma develops. Then slice into that juicy bad boy.
How to Keep Your Guacamole Green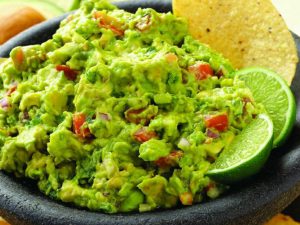 I hate it when my beautiful avocado stuff starts to turn dull and brown. Lula's for Lunch…and More! Catering has to make a pretty large volume upon occasion and sometimes it has to sit in the fridge for a couple of days – and there's just not enough acid in the recipe to keep it in the "Kermit" family, so… I cover the surface with a thin film of water. The guac is dense enough (and fatty enough) that it won't absorb the water – so when I'm ready to use it I just tilt the container and pour the water off and voila! it's just as vibrant as when I made it.