The emperor thereupon ordered Xu Fu to gather a group of several thousand young boys and girls and set out to sea to search for the immortal men.
Records of the Grand Historian, translated by Burton Watson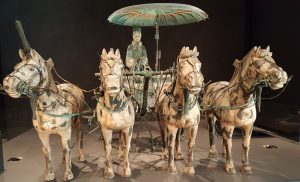 Qin Shi Huang (259-210 BCE), who became the first emperor of China, longed for immortality. He ordered expeditions to follow up on legends of immortals. He probably swallowed mercury, believing it was the elixir of life.
Yet he also had been preparing for his death since he was thirteen years old. He ordered the creation of a massive terracotta army built for his huge mausoleum. When he did die, at age 49, his preparations probably were in order.
The emperor's eternal army was rediscovered in 1974, and a small portion is on display at the Cincinnati Art Museum until Aug. 12, 2018.
Qin Shi Huang didn't make his death preparations easy on his subjects. Are you making yours easier for yourself and your loved ones? It only takes four documents, not a huge clay army. Mine are ready, and I intend to live another fifty years. I hope I have to update them many, many times.
It is best for all concerned if you have an advance health care directive, a power of attorney for health care, a general financial power of attorney, and a final will and testament.
Instructions for how to create these are in Thriver Soup, p. 101-103, written by a top-tier lawyer. You probably can pick up some simplified versions of a couple of these documents at the front desk of a hospital.
Better to be prepared, like an emperor, because you can't predict when the grim reaper's chariot is going to run you over.
Thriver Soup Ingredient:
As you prepare your living will and health care power of attorney, it might be a good idea to consult with a hospice nurse about the advisability of some procedures.
Source:
Sima Qian, Records of the Grand Historian, translated by Burton Watson (1993). http://www.vision.org/visionmedia/history-shi-huang-emperor-china/5818.aspx