Human progress never rolls in on wheels of inevitability; it comes through the tireless efforts of men willing to be co-workers with God, and without this hard work, time itself becomes an ally of the forces of social stagnation. We must use time creatively, in the knowledge that the time is always ripe to do right.
Martin Luther King Jr., in a letter from Birmingham Jail, April 16, 1963
Martin Luther King Jr. recognized, in the heat of the American civil rights movement, the long view that time could be an ally.
In our modern society, we typically don't see time as an ally, but rather more as an enemy, an obstacle, a problem. We tend to view time in terms of something we lack, not something we can use.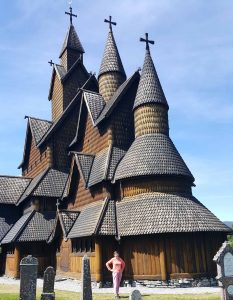 Hundreds of years ago, even though people lived much shorter lifespans, time was viewed as a tool and was used to create beauty for future generations.
When I was in Norway recently, I was given the gift of a visit to an enormous wooden stave church. When the structure was built, the men looked for trees to use as tall interior pillars to hold up the heavy roof. When they had selected a tree, they topped it off. Then they let the tree stand for about 20 years, during which the trunk would fill itself up with resin.
When the process had completed, the tree was cut down and used as a fire- and water-resistant column that would last for hundreds of years without drying out, splitting, or cracking.
A few decades ago, the original pillars finally had to be replaced. Trees were cut down and turned into columns without the 20-year resin-absorbing process. Now the trunks are cracked and drying out. Time had not been used to create pillars that would withstand water and fire, heat and moisture. Instead, the columns will have to be replaced again in a much shorter time frame.
Using time as a tool became personally important to me when I was diagnosed with highly aggressive end-stage cancer. I knew if I did not do chemotherapy, the sarcoma cells would quickly fill my body and I would no longer have any time.
Chemotherapy became my tool to buy time. Time, in turn, became my primary tool for healing my life and doing numerous integrative therapies. It took two years for me to change my attitudes, behaviors, and make some major life choices. Those alterations, along with surgery, eliminated the cancer. For six years now, I have been free of evidence of disease and free of cancer treatment.
Time, as an ally, was a tool that helped save my life. My integrative therapies helped me rebuild my mind, body, and spirit so I could become more strong and resilient, like the resin-soaked tree trunks. It could not have happened overnight. It took two years, and I continue daily with rebuilding my life so I can be more resistant to dis-ease.
How do you use time as a tool in your life?
Thriver Soup Ingredient:
Time can seem excruciatingly short for those with end-stage cancer. Perhaps find ways to use the time you have as a tool to reach a goal. Allow time for nutrition to produce positive effects on your body. Time for treatments to take effect. Time for healing attitudes and behaviors that might have an impact on your body's abilities to heal.