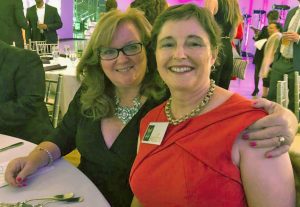 Heidi Bright, MDiv, Milford, Ohio, has been named 2017 Champion in Cancer Care by Cancer Support Community in Cincinnati.
The CSC gala on Saturday, Oct. 14, honored inspirational individuals working in cancer care.
Bright, in radical remission from highly aggressive end-stage sarcoma for six years, embodies the words Champion in Cancer Care—she champions genuine hope and hundreds of healing solutions for cancer patients, according to her nominator, Amy Ostigny, Executive Managing Director of eWomenNetwork Cincinnati.
As a national speaker and traditionally published author of Thriver Soup: A Feast for Living Consciously During the Cancer Journey, Bright emphasizes healing one's life to open space for the body's natural healing abilities to arise, said Ostigny.
"Her compassion shines through when speaking and writing because she knows the devastation of being told there are no more medical options and to get one's affairs in order," said Ostigny.
All proceeds from CSC's signature fundraising event are channeled into free programs and services for anyone impacted by cancer. http://www.cancersupportcincinnati.org/Default.aspx