Do you feel like you lack the time and/or energy to make green smoothies? Are you having trouble meeting your quota of three to five servings of dark leafies every day?
Here's a simple smoothie you can make if you have a high-speed blender. It provides dark leafy greens and green tea. One of my brothers even tried it and said it wasn't bad… that it tasted like foam.
Dark leafies contain beta-carotene, vitamin C, folic acid, and important trace minerals.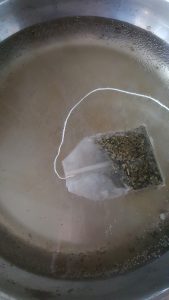 The main advantage of green tea lies in its polyphenol, EGCG (epigallocatechin gallate). EGCG influences what DNA codes are expressed inside cells. Green tea has been shown to stimulate the immune system, inhibit metastasis, reduce inflammation, provide anti-oxidants, promote the effectiveness of radiotherapy, and detoxify the body. It can even help increase bone density (Thriver Soup, pg. 149).
Of course, talk with your health care provider first (especially if you are on blood thinners).
Simply load up your blender with salad greens, then add some freshly made green tea cooled with ice. Blend and serve. Viola! Power-packed vitality for your body.