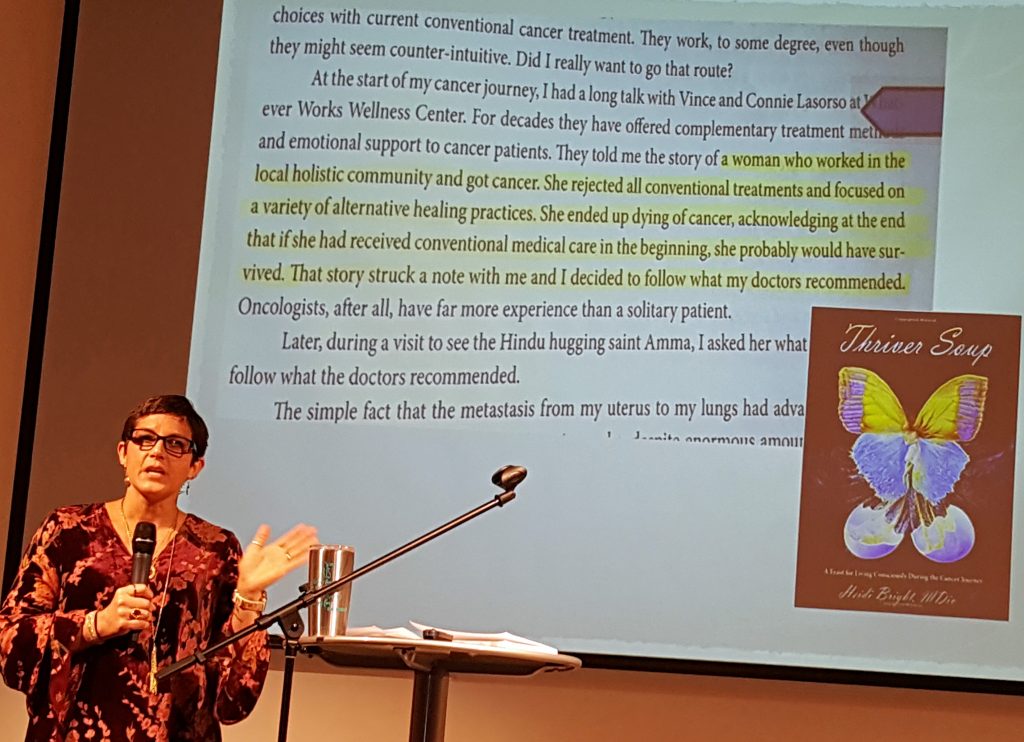 Jacqui Roell, a Registered Nurse, says, "Thriver Soup saved my life!"
Jacqui was diagnosed with Stage 2b lobular breast cancer and a friend urged her to read Thriver Soup. The first thing Jacqui read in the book was, "I thought I had been sentenced to die. Instead, I had been invited to live joyfully so my soul could prosper" (p. 19).
Jacqui was not expecting to read something like that. She set Thriver Soup aside.
She had already decided not to do chemotherapy or radiation. Eventually she wanted to see what I suggested in the way of alternative treatments.
She opened up Thriver Soup again, and read, "At the start of my cancer journey, I had a long talk with Vince and Connie Lasorso at Whatever Works Wellness Center. For decades they have offered complementary treatment methods and emotional support to cancer patients. They told me the story of a woman who worked in the local holistic community and got cancer. She rejected all conventional treatments and focused on a variety of alternative healing practices. She ended up dying of cancer, acknowledging at the end that if she had received conventional medical care in the beginning, she probably would have survived. That story struck a note with me and I decided to follow what my doctors recommended." (p. 25)
Jacqui says, "That was huge for me. It made me take a step back and reconsider my options. It gave me permission to do what my doctor wanted me to do, while also taking care of what I needed to do spiritually and mentally."
Using the practical tips in Thriver Soup for managing chemo and radiation, Jacqui did conventional treatment. "Thriver Soup is my bible," she said. "It is amazing and made a huge difference for me."
Jacqui finished treatment January 12, 2018, and is free of evidence of disease. Yet she continues to read and refer to Thriver Soup, because the ideas can apply to any and every area of life.
"Everyone should read Thriver Soup, including caregivers of people diagnosed with cancer," she says. "It can help caregivers support their loved ones by learning about complementary treatments that assist the patient. This can reduce the patients' experience of stress."
Jacqui spoke at the Feb. 17 HIME Wellness event at Crossroads Mason in Ohio.
I will be speaking at 10:30 am and 1 pm on Saturday at Kent Cook Institute, and at noon on Tuesday at Main Street Books, both in Davidson, NC.
On Thursday, March 1, I am the headline speaker at 2 pm at the Annie Appleseed Conference in West Palm Beach, FL.