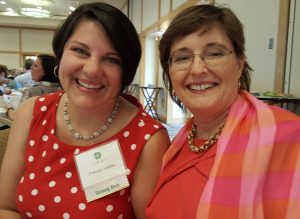 Shannon Villalba was sick for six months before she heard the words, "You have cancer." As a result of those three words, she resolved that she would hear the words, "You have no evidence of disease." And she did. Five months later.
Shannon promised herself she would do what it took to help heal her body, so she used a variety of complementary and holistic medicine therapies in addition to traditional chemotherapy and radiation. She says she is grateful this strategy worked for her, and she realized that there are many other patients who could benefit from these strategies as well. She took a look around and noticed that many of these types of practitioners were hard to find. That's when she decided to create HIME Wellness – Healing through Inspiration, Motivation, and Education.
HIME Wellness is a company that educates the community about holistic and integrative medicine by showcasing the expertise of its practitioner members. Shannon wholly believes it is her purpose in life to assist others with their wellness journeys and to inspire them to help others as well. Together we can make a difference in the way we approach our healthcare today.
She enjoys learning about what types of therapies are available, and connecting the practitioners with those who are seeking their services. Each month she hosts a big event with speakers such as integrative doctors, chiropractors, holistic nurses, physical therapists, and energy therapists. HIME also features demonstrations of various types of therapies.
She says it feels great to see so many people who are open to these types of therapies, and then hearing them say, "This is exactly what I am looking for to help me heal!"
Additionally, at every event, HIME Wellness gives back to various charities such as the Pink Ribbon Girls and the Women's Health Initiatives Foundation.
HIME also offers classes and resources for those searching for answers.
Shannon clearly loves being able to pay it forward by helping others in any way she can. With the blessing of a second chance at life, she is choosing to live it by serving others. She expresses gratitude because she will never know if something she does makes a difference to someone she's never met, because the end result is all that matters to her. If someone is inspired and motivated to take charge of his or her own life and health, that's what she wants.
She says she fully believes that inspiration through motivation and education is the key to eliciting change. The more people know about healthcare therapies, and the more people are motivated or inspired by stories about health journeys, the better we are as a society.
Shannon's mission is to inspire others through teaching them to take charge of their lives and change them for the betterment of the human race. She does this one step and one day at a time, whether it's inspiring someone by telling about her own cancer journey, or by connecting someone with a class, a blog post, or a bit of knowledge.
Each day Shannon knows she can accomplish this mission through those she is meant to help, who in turn will help others, and that makes all the difference. Shannon lives the unsung hero honor each day.