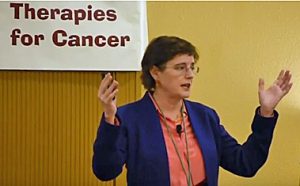 The video of my live talk, "Subduing the Cancer Dragon: The ABCs of Creating Conditions for Healing" during the 2018 national Annie Appleseed Complementary & Alternative Cancer Therapies conference, is now on youtube: "Subduing the Cancer Dragon"
Discover 3 key ingredients cancer patients need to improve their chances of survival. Important attitudes, behaviors, and major life choices that can help you thrive beyond cancer will be explored during the presentation.
In radical remission since 2011 from highly aggressive end-stage sarcoma, I share genuine hope and realistic options with listeners. I earned the 2014 Voices of Women Award for outstanding achievement in personal growth and transformation from Whole Living Journal, and the 2017 Champion in Cancer Care and 2017 Unsung Hero awards.
My third traditionally published nonfiction book, "Thriver Soup: A Feast for Living Consciously During the Cancer Journey," is physician-endorsed with 250 practical healing solutions. https://thriversoup.com/book/