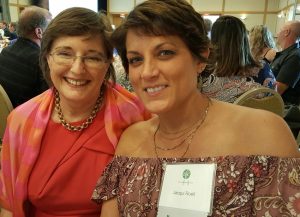 Jacqui Roell, RN, BSN, who believes Thriver Soup saved her life, earned a 2018 Unsung Hero Award from Cancer Family Care.
A registered nurse for more than 25 years, Jacqui became the patient during 2017 with a breast cancer diagnosis. During her chemotherapy and radiation treatments, she used many alternative therapies, which she said allowed her to recover quickly.
She calls herself a living testament to how complementary therapies can benefit cancer patients before, during, and after medical treatments. "They can actually decrease, and in some cases remove, the need for many medications by allowing your body to heal itself and maintain its healthy balance naturally."
Jacqui is an aromatherapist, a reflexologist, and a Reiki practitioner. She is adding healing touch, crystal therapy, and herbal supplementation to her business. She also is active in several cancer care and advocacy groups, including Pink Ribbon Girls and Cancer Family Care.
Jacqui was nominated for the award by her mother, Marilyn Seilkop, a fellow cancer survivor. Marilyn wrote, "She is a passionate advocate for patients and their families. In addition to interviews on local TV stations, Jackie is a frequent speaker at cancer care events she is a mentor for cancer patients and a hero to all who meet her."
Jacqui's Holistic Soul Wellness website is https://holisticsoulwellness.com/
What is your favorite complementary form of treatment?