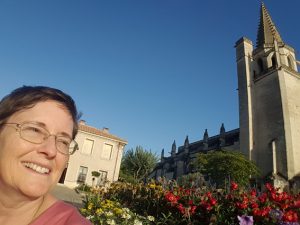 If you have a bucket list of things to do before passing away, how are you doing on getting through your list?
Are you stopping yourself from fulfilling your dreams because you think you can't do them?
Maybe you think you don't have the funds. Or you feel like crap because of treatment and don't want to leave home. Or you don't have anyone to travel with.
For most of us, those are just excuses.
They are our fears trying to frighten us back into our old patterns.
Patterns that keep us stuck.
Yet your excuses and your fears can be faced and dealt with.
There are work-arounds to get your bucket list accomplished.
You have to have the courage to press forward.
There are organizations and websites you can access for bucket-list funding. Too proud to ask? What fear is that pride arising from? Perhaps not wanting to be seen as needing something to help you fulfill your dream?
Or too humble to ask? Is that maybe a fear that we aren't good enough to reach for our dreams? When my mother passed from breast cancer, I was surprised how many people were angry because they were not called upon to help her out. I have learned when we have cancer, people want to help us. Give them that opportunity.
If you can sit in a wheelchair for a decent length of time, it should be possible to travel, even if it's on a cruise ship. In 2010 I scheduled my chemotherapy treatments around a cruise and took my anti-nausea medications with me. I had a fantastic time and checked one trip off my list.
And you can request assistance in meeting your goal. If you want to travel, perhaps put out a call for a companion, or if you feel up to it, travel alone. I just returned from an amazing trip in France—traveling solo, driving a rental car with no GPS (I couldn't get it to work on my phone), and only able to say "Bonjour," "Merci," and "Parlez-vous Anglais?"
Why France? I wanted to pay homage to a woman who provided a template for healing my life. Her name? Martha of Bethany. Yes, the woman repudiated by Christ in the Gospels for her anger toward her sister, and for "doing" too much.
Martha healed after her contact with this Master Teacher. She changed her attitude from resentment into peace, and later served alongside her sister Mary. According to "The Golden Legend," Martha later changed her behavior by refusing to die a victim on a rudderless boat adrift on the Mediterranean Sea. And she made a major life choice of focusing on "being" more than "doing."
I love this woman and what she represents for me.
Why pay homage to her in France? According to the legend, Martha ended up in a small village in what's now Provence. The community was being terrorized by a "dragon."
Martha faced down that monster while barefoot, using only holy water and a cross. Can you imagine?
That's not the behavior of a victim.
She courageously subdued that dragon.
Then the villagers killed it.
Through her transformed life, Martha demonstrated that I, through my own inner transformation, also could possibly tame the cancer dragon in my body. I could use her example of changing my attitudes, reconstructing my behaviors, and making major life choices to help subdue my own cancer dragon. Then medical treatment could kill it.
Since this is my seventh year free of evidence of cancer and free of cancer treatment, I felt it was high time I made my pilgrimage to The Collegiate Church of Saint Martha in Tarascon, which purportedly houses Martha's relics. It was the third most popular pilgrimage site during the Middle Ages. And it became my biblical Year of Jubilee cancer pilgrimage site.
I feel deeply gratified for the experience.
Do you want to feel gratified for having accomplished things on your bucket list? Do you still have things to do, activities that are waiting for you to take up the baton and start directing your own life?
Or are you making excuses?
Sometimes we have to face down our fears before we can take the leap into the dark.
Think about each one of your fears.
Take a good, hard look at your list.
Are there ways to work around what scares you?
Are there ways to make your dreams come true?
Only you can change your life.